Commercial LED Lighting Fixtures
LED lighting gives the progressive electrical contractor the power to add value to proposals that bring long-term benefits to the organizations for which they work.
Solid state lighting technologies are by far the most energy efficient in the world. They offer sizable returns on investment in the form of lower operating costs, drastically reduced replacement costs, and environmental benefits that give companies both tangible and intangible advantages in the marketplace.
Call us toll free at 1-800-239-2939 For A FREE Quote
LED lighting is divided into two major categories. These categories are interior lighting and outdoor lighting, with a number of subcategories under each that represent specific product groupings.
Some of these fixtures are highly specialized commercial lighting fixtures that
are designed for highly customized applications. Some are better suited to new construction projects. Others are designed for retrofitting and remodeling work. Still others are luminaires that can be applied to a broad range of applications with the help of sophisticated photometric designs offered through our sales department.
LED lighting for building interiors has opened new doors for electrical contractors to offer a vast reduction in operating costs to their clientele.
It is a well-known fact that LED interior lights can reduce electrical consumption by up to 80 percent. LED indoor lighting fixtures used for general lighting will reduce the overhead for an organization, and, in the process, create return on investment through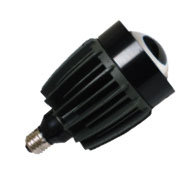 ongoing, monthly savings on power bills. Specialty lighting fixtures such as LED recessed lights, LED undercabinet lights, and LED retrofit lights for building remodels allow contractors to propose a new system to an existing structure that will radically reduce its operating costs.
LED lighting for building exteriors will further reduce operating costs with energy efficient lights that perform a number of specialized tasks.
LED landscaping lighting provides both security and décor to organizations who want to present themselves to the world with a 24-hour, professional presence. LED sign lights helps showcase the company brand to neighboring traffic, businesses, and residences. Among the most popular of these sign lights are LED gooseneck lights which contribute a fine aesthetic to building architecture while also providing façade and sign lighting. LED step lights, LED exterior
and LED emergency lighting provides luminance for visibility and safety. As we see in the case of LED interior lighting, there are also plenty of commercial lighting fixtures that are specifically designed for retrofitting to existing lighting arrays. Both the new construction specialist, and the building remodeling specialist, can find the appropriate fixture for the task in our online product offerings.

Contractors are encouraged to call our design team and gain a clear picture of the many returns that an LED lighting system will bring to their clients for smaller companies that are looking to purchase equipment. The temptation may be present to take a shortcut on front-end costs and worry about power and replacement costs later. Perhaps the best way to tip the scales in favor of the long-term is to encourage companies to consider the financial rewards showcasing the company's commitment to using only the most environmentally friendly technology as part of its green awareness campaign.
If you can not find what you are looking for call us toll free at 1-800-239-2939
and we will find it for you. Our home office is located in
Houston
,
Texas
with warehouses located throughout the United States that enable us to service all 50 states
And tagged in
Commercial Landscape Lighting
,
Commercial Lighting
,
LED Lighting
,
LED Commercial Lighting
.
Related Articles: